Celebrating a Tradition of Excellence
Order Hard Corps, a drum corps documentary by Irondale alum David Malver.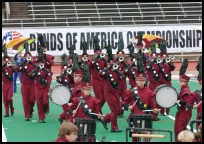 The Marching Knights of Irondale High School are one of Minnesota's premier marching bands. They pride themselves on being recognized as a progressive and innovative organization. Irondale has established a tradition of excellence through quality performance and diverse educational goals. The group involves more than 140 members and represents Mounds View Independent School District #621. Irondale High School serves the communities of Mounds View, Shoreview, Arden Hills, and New Brighton, Minnesota. These communities are northern suburbs of the twin cities of Minneapolis and St. Paul.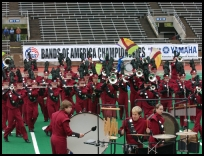 The Irondale Marching Knights strive to learn about music and marching through hard work, dedication, and the pursuit of quality performance. This outstanding, competitive performance group also provides many opportunities for its members to personally develop and strengthen themselves in areas including leadership, teamwork, interpersonal growth, goal setting, time management, and self-discipline. A strong work ethic, commitment to the program and a positive approach to teamwork are the foundation of the Marching Knights' philosophy, which is: "Work hard, perform well, grow musically and have fun." If you are new to our district, contemplating a move, or simply passing through, we invite you to come and see the Knights in practice or performance.
This website is monitored by Bill Sucha, band director. Please email him with any questions or concerns about page content.

Web site hosted by Binary.Net.
Created by Andrea Armagost in 1996.