From the Director . . .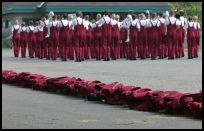 he Marching Knights of Irondale High School have built a tradition of excellence that is recognized throughout Minnesota and beyond. It is one of the school's largest extracurricular activities involving approximateley 150 students. The band's membership is drawn from the Mounds View School District 621, involving high school youth from the communities of Mounds View, New Brighton, Shoreview, and Arden Hills.
As director of these outstanding youth, it is my strong belief that students gain the most from an activity when they are active participants. I am very proud that every member of this band is able to participate in all performances and no one is turned away. As a necessary part of the team, each individual contributes their talents to support the quality of the group. This year we will once again be traveling throughout Minnesota representing our school and community with exciting musical performances.
I invite you to attend any of our practices, parades, and fall field show performances. It is a family event that can be fun and exciting for all ages. You will be proud of the excellence exhibited by the Irondale High School Marching Knights!
Cordially,
Bill Sucha
Director, Irondale Marching Knights